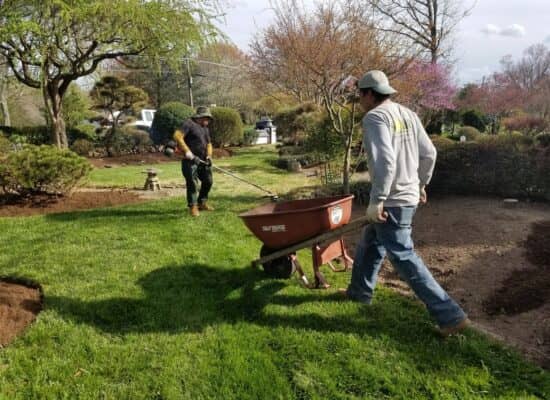 Welcome to Solar Landscaping & Tree Service
Solar Landscaping & Tree Service has been the Northern Virginia leader in landscaping and tree service for over two decades. Your home is more than brick and mortar. We want you to enjoy it inside and out. Let us show you how a vibrant and healthy landscape will make you smile every time you see it.
We stand behind the quality of our work, and our customer service is second to none. Whether you need a simple lawn maintenance plan or a custom design of your dream yard, Solar Landscaping & Tree Service is the only call you need to make. Integrity, quality and exceptional service. That is what Solar is all about.
Services
"Solar Landscaping & Tree Service- for the best service under the sun"
Why Choose Us
Why choose Solar Landscaping Tree Service? There are 3 main reasons: Honesty, Integrity and Individual Attention.
Honesty

We are always upfront about our pricing and never try to upsell you on any service. We never take payment upfront for any type of service work. We believe it's best to take payment once work is completed and all parties are satisfied. It's our guarantee to our customers

Integrity

We believe that with our experience we can help guide you through services that are necessary rather than selling you on extras that are unnecessary, and at times, costly.

Individual Attention

While we like to keep things simple and only provide the necessary work, not all jobs are created equal! This is why we treat each customer and their needs with varying levels of attention due to the types of jobs that we encounter. You can count on Solar for a custom solution from planting, trimming, disease control, to removal and everything in between.
Keeping your landscape healthy and thriving is a multifaceted process.
It starts with communication. When you call Solar Landscaping and Tree Service, we have one goal in mind- to meet your landscaping needs. Our experts will listen to your concerns and wishes. We will ask you questions and verify that we fully understand your expectations and budget.
We plan and design. Whether your project is large or small, we will lay out a detailed plan of what we will do for you. We can provide simple lawn maintenance all the way to intricate landscape design with hardscape and fencing. Our pricing is upfront, affordable, and won't include hidden extras that surprise you later on. Our measurements are accurate the first time, so our work is completed to your satisfaction.
We install and complete our projects. Once you've approved our plans, we install and complete our projects on time.
Don't worry about a contractor leaving work half done. Our dedicated team of landscaping professionals won't stop until you are satisfied.
That is why we don't take payment upfront. Everyone involved in meeting your landscaping needs is an important part of the final product.
We maintain. Once your lawn and landscape are looking great, we will help you keep it that way. Mowing, leaf removal, tree trimming- these are only some of the great services we offer at Solar Landscaping & Tree Service.
When it comes to your precious landscape, you want a business in Northern Virginia that you can completely trust.
That business is Solar Landscaping & Tree Service. We've got the experience you desire, the services you need, and the quality you deserve. When you choose Solar, you are choosing a local, family-owned business that treats every landscaping job like it's their own yard.
Here at Solar, we understand that your landscape is an investment. We invest ourselves into the success of your landscape, and your satisfaction is our goal.
Call Solar Landscaping and Tree Service today. We cannot wait to show you what we can do for your landscape. No job too big or too small. The quote is free, so call today.
Certificates, Featured in & Awards
Solar Landscaping & Tree Service has served all of Northern Virginia over the past two decades.
Frequently Asked Questions
Solar Landscaping & Tree Service has served all of Northern Virginia over the past two decades.
What is a Certified Arborist?
An ISA arborist certification is a nongovernmental, voluntary process by which individuals can document their base of knowledge. Certification provides a measurable assessment of an individual's knowledge in the competencies needed for proper tree care. https://www.treesaregood.org/treeowner/whyhireanarborist
What are some popular services for tree services?
Most common tree service provided is health maintenance. Health maintenance can cover a number of things depending on the tree species. Those services include thinning, topping, crown raising and reducing. Unfortunately mature trees in urban environments do need to be taken down, due to their high risk and it is another popular service we offer.
What equipment do you use?
Some of the equipment used comes from our Industry leaders such as Vermeer, Sthil, Husqvarna, Bandit Industries etc.
How do I identify what problem my tree has?
It's a systematic approach. We begin at the top by checking the condition of the canopy and move our way down the stem or trunk to the visible roots for any structural issues.
Why is Workman's Compensation important?
Accidents happen. That's why they are called accidents. Tree care labor is high risk and therefore it is important to carry workers compensation. To ensure everyone is protected in case of any accidents.
How can I pay for my services?
There are a number of ways to pay. Most commonly we take a physical check after all work is completed and the customer is happy. We can also take an electronic check when Invoices are billed electronically. Major credits are accepted too, with a processing fee.
When is the best time to trim trees?
If heavy pruning is needed. Winter and Summer are good times. If you are trimming only a few branches, any time of the year works depending on the tree species.
Do you have emergency services?
We do! Rates and pricing is a bit higher than your standard tree job but we always make sure to keep the pricing competitive.
How long does it take to complete a job?
Time to Complete varies from job to job. A small job can take a few hours. A medium size job can take around half a day. A large tree job can take about a day.
What sets you apart from other tree service companies?
We are very familiar with the trees in the area since we've been in business here in the DMV for more than 20 years. We also have experience and trained arborists to ensure every aspect of tree care is considered when undertaking any job.
How long have you been in the tree service business?
We have been in business since 1998.
Do you need a permit to cut down a tree in Virginia?
No, Virginia State Government does not require a permit to take down a tree(s). However local Government does have some restrictions that you should be aware of, depending on where you live. You should also be aware of your HOA, tree removal restrictions.
Is it illegal to cut down trees on your own property?
No it is not, whether it be risk related or not. Unfortunately trees in urban environments have a higher risk compared to trees located in less populated areas. This inherently means that trees will need to be cut down due to the presence of higher risk.
Why Solar -Landscape Service is the best tree service provider?
We have the experience, equipment and the heart to the job the right way from beginning to end. We make sure that every customer is treated with respect and honesty. We are not in the business of completing jobs for money but rather creating lasting business relationships.
Want to Schedule a free quote?
We'll get back to you within 24 hours