Tree Service Fairfax VA
Need local tree removal in or around Fairfax county? Talk to the industry pros at Solar Landscaping & Tree Service today. For emergency tree removal, tree care tips, and overall tree service Fairfax VA, we aim to please. Review our customer feedback and you will see why folks from Arlington to Haymarket call and rely on us for local tree removal services.
So, why is tree removal so important- and what are some tree care tips for property owners from the experts? The truth is, delaying removal of a diseased, dead, or damaged tree can wreak havoc and create headache for property owners. It is not only an eyesore, it is a potential hazard that must be addressed right away.
Here is what you need to know about emergency tree removal in the region:
For tree service Fairfax VA, call on us at Solar Landscaping & Tree Service today. Whether you have a dead or diseased tree on your property, you are reconfiguring your outdoor spaces, or you simply want to remove a tree from your lot, we can help. We have years of experience resolving issues and removing trees- and we can remove your tree, too.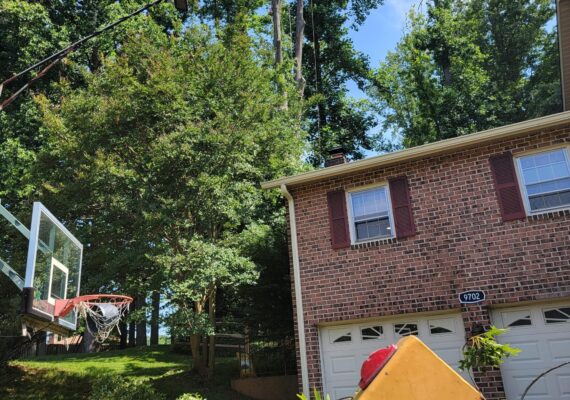 It is imperative to remove trees that pose potential danger or hazards, such as those that are diseased or at-risk of falling down. Weather, like wind and rain, can exacerbate this risk and cause a dangerous element that puts your property, your neighbors, and your loved ones in harm's way. Resolve this threat with the insight and expertise of a professional tree removal service in the Fairfax area.
Why Choose Us
Why choose Solar Landscaping Tree Service? There are 3 main reasons: Honesty, Integrity and Individual Attention.
Honesty

We are always upfront about our pricing and never try to upsell you on any service. We never take payment upfront for any type of service work. We believe it's best to take payment once work is completed and all parties are satisfied. It's our guarantee to our customers

Integrity

We believe that with our experience we can help guide you through services that are necessary rather than selling you on extras that are unnecessary, and at times, costly.

Individual Attention

While we like to keep things simple and only provide the necessary work, not all jobs are created equal! This is why we treat each customer and their needs with varying levels of attention due to the types of jobs that we encounter. You can count on Solar for a custom solution from planting, trimming, disease control, to removal and everything in between.
Tree Services in Fairfax County VA Include
Tree Trimming
Tree Pruning
Limb Removal
Tree Removal
Stump Grinding
Plant Health Care
Insect and Disease Control
Root Care
Tree Preservation
Certificates, Featured in & Awards
Solar Landscaping & Tree Service has served all of Northern Virginia over the past two decades.
Local Tree Removal FAQs
There is a lot to consider when you are having a tree removed- even trimmed- on your property. You may wonder about the legal aspects and whether you need a municipal permit, as well as how much the job is going to cost you. We are clear and transparent with our clients; we want to give you honest answers to your questions regarding local tree removal so you can make an informed decision when weighing your options.
A few frequently asked questions include these:
Do you need permit to cut down and remove trees in Fairfax county?
In some cases, you will need a permit to cut down and remove trees. Some of the factors that contribute to this include the size of your property and what your intent is by removing the tree. Talk to a tree removal service in the area to learn more- they often can obtain necessary permits, so you won't have to!
How much does it cost for tree removal service Fairfax county?
Removing trees is a significant job that merits the expertise and equipment of a professional tree removal service in the area. The price will vary depending on many factors, but home improvement sites estimate the cost of removing a single tree in the region to run from $300 to nearly $2,000. The best way to go about having a tree removed is to first obtain a free, no-obligation price quote from an area professional.
Why do you need to hire a professional local tree removal service?
Hiring a professional to remove trees is the safest way to maintain your property. First, they are experienced and prepared for the difficult task at-hand, and second, they are insured against any damages- which can provide property owners with a bit more peace of mind. Stay safe and hire a pro.
Should property owners try to prune and trim their own trees?
Trimming your trees wrong is worse than not pruning them at all. In fact, improper pruning can cause problems with pests and bugs, too. Do yourself a favor and consult with a professional tree service in the area before you try and trim your own trees; it costs nothing to obtain a free quote!
What makes Solar Landscaping & Tree Service the best tree removal service in Fairfax, VA?
Consumers have a lot of options when it comes to hiring a professional to trim, prune, or remove trees in the area. Property owners widely give Solar Landscaping & Tree Service (or SOLAR) the highest of ratings and top-notch reviews for tree removal services.
Since 1997, the founder of SOLAR has put customer service first, earning the patronage and loyalty of clients across the state. Over 20 years later, the mission at Solar Landscaping & Tree
Service remains the same: provide customers with quality work at affordable pricing. We will treat you with honesty, integrity, and respect, providing the personalized attention that has gained customer satisfaction time and time again. We welcome your questions and feedback!
Need a tree removed in the area? Don't delay; call Solar Landscape service in Fairfax, VA today!
Do not run the costly risk of having trees removed by anyone other than a professional. You- the property owner- will be liable if someone that is uninsured is injured or does damage removing your trees. Do you want this added stress? Stay safe and talk to the team at Solar Landscape service in Fairfax, VA, for an honest quote and relevant information regarding your tree removal and what you can expect. Why would you go anywhere else? We have a proven track record with clients across the state of Virginia. We offer a free estimate and quote for customers that are weighing out options related to tree removal. Check out our feedback online and you will see why clients return to us again and again for all of their landscaping and tree service needs. We are reliable and affordable; we will work hard to guarantee your satisfaction and loyal business. Remember- you are in good hands with the team at SOLAR. Let us do the hard work for you and don't delay; postponing the removal of a tree can be disastrous. Call or visit today.