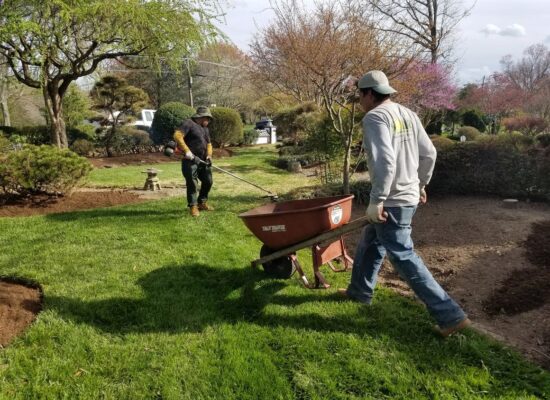 About Solar Landscape
Solar Landscaping & Tree Service- for the best service under the sun.
In 1997, Ergil Solorzano made it his mission to keep the landscape of Northern Virginia beautiful.
More than twenty years later, Solar Landscaping & Tree Service has built lasting customer relationships by providing three essential qualities in every service. Integrity, quality and exceptional service.
Our Goal
Solar Landscaping & Tree Service has served all of Northern Virginia over the past two decades.
We don't just strive for a good job. We strive for exceptional service for you and your landscaping needs. Individual attention to our customers means we provide what your specific lawn and landscaping project needs. We can maintain your small but mighty yard. We can design a lush and intricate garden atmosphere for your rolling hills estate. Each customer is the most important customer.
Quality landscaping and tree service goes well beyond owning a mower and chainsaw. Solar knows the science behind a healthy landscape. We carefully identify the type of grass you have. We know what kind of fertilizer you need and when to fertilize your lawn. We understand the seasonality of landscape care and adjust our services to specifically what your lawn needs. When your lawn is in tip top shape, it helps reduce temperatures and cool the outside air. A healthy lawn creates oxygen, prevents soil erosion, and an even help absorb pollutants from the air around your home. You will smile knowing your lawn looks great, and we will smile knowing you are happy with the work we provide.
Solar Landscaping & Tree Service is truly the only company you need for your outdoor needs. We sit down with you to find out what your vision is. You may just want your lawn to be neat and healthy.
You may want those overgrown bushes gone. Would you like some extra shade over your back patio?
We can plant a tree that will give you natural shade for years to come. Is that little hill on the side of your house getting tricky to navigate? Let us install a gorgeous retaining wall. Maybe you are done looking at the back of your neighbor's house. We can install privacy fencing that keeps your yard just for you. It is all a part of how we provide the best landscaping experience ever.
Your experience at Solar Landscaping & Tree Service starts with a wealth of knowledge at the helm. Our employees are continually learning the latest and greatest approaches to lawn and landscape care. We strive to provide the most up to date applications to our customers while keeping our prices competitive. We are available in case of emergency, so don't hesitate to contact us.
Here at Solar, we appreciate your feedback. Tell us if there might be an issue with a service we've provided, and also tell us if our services are great. We want you to tell your family and friends that Solar Landscaping & Tree Service gives the best service under the sun.
CERTIFICATIONS & CREDENTIALS
Ergil Solorzano Jr
ISA Certified Arborist®
MA-6372A
ISA Tree Risk Assessment Qualification (TRAQ)
Certificates, Featured in & Awards
Solar Landscaping & Tree Service has served all of Northern Virginia over the past two decades.