Why do you need tree service Falls Church VA
For both residential and commercial tree services in the area, call on Solar Landscaping & Tree Service. Satisfied customers across Northern Virginia have left reviews and ratings online that reinforce our dedication to the client. For that reason, we customize our Tree service falls church va to suit your needs- while treating you with the integrity, honesty, and respect that you deserve
If you own a property in Falls Church, you likely need tree service. From trimming to stump removal, pruning to planting- let us at Solar Landscaping & Tree Service help. There are so many compelling reasons why homeowners and business owners alike can benefit from regular tree service. Here are just a few:
Trimming trees, removing dead foliage, and reducing tree canopies improves curb appeal.
Getting rid of dead branches and limbs increases safety on the property.
Thinning out overgrown or damaged foliage results in hardier landscaping, while removing diseased trees prevents infecting others.
Trimming foliage and removing dead or decayed trees results in fewer pests.
More customers will notice and subsequently visit your establishment. Maintaining the landscape and trees around your business makes it more welcoming to potential patrons.
Providing maintained landscaping outside a commercial site can lead to greater staff satisfaction, particularly those that like to sit or stroll outside.
Reducing overgrown trees and foliage can be energy efficient, allowing more light in and around your property.
Don't forget that taking care and maintaining your property- both residential and commercial- can enhance the overall valuation of your investment. That is, keeping the trees, foliage, and landscaping maintained can make your property worth more!
Solar Landscaping & Tree Service has Falls Church Tree Service Permit
There may be Fines associated with Tree Service in Falls Church done without an official permit. We've acquired a tree work in Falls Church Permit, contact us today for approved, ready-to-go tree service.
Falls Church Tree Service
So, what are the Tree Care Services that we offer, you ask? Plenty- we provide a full range of landscaping, tree removal, and trimming services across a wide service area. We offer free, no-obligation quotes and estimates for prospective customers; call or visit to schedule yours today.
Residential and Commercial Tree Services
Tree & Stump Removal
Tree Trimming & Pruning
Tree Topping
Tree Planting
Fertilization
Planning & Consulting
Tree Risk Assessment
We provide residential and commercial tree services to our customers across Northern Virginia- including McLean, Vienna & Falls Church. Call us today to learn more!
Specialized Commercial Services
Crown Cleaning
Crown Thinning
Crown Raising
Crown Reducing
Tree Inventory
Structural Pruning
Tree Risk Assessment
We are accustomed to dealing with towns and municipalities for permits- and have collaborated on projects with HOA's, Local Community Facilities, Federal Government, and many more. Let us know how we can help and what we can do to bring your property up to par!
Some services we offer that may interest both homeowners and businesses include these:
Weekly Lawn Care
Spring & Fall Clean Up
Mulching, Weeding & Edging
Shrub Trimming
Hedge Trimming
Leaf Removal
And much more!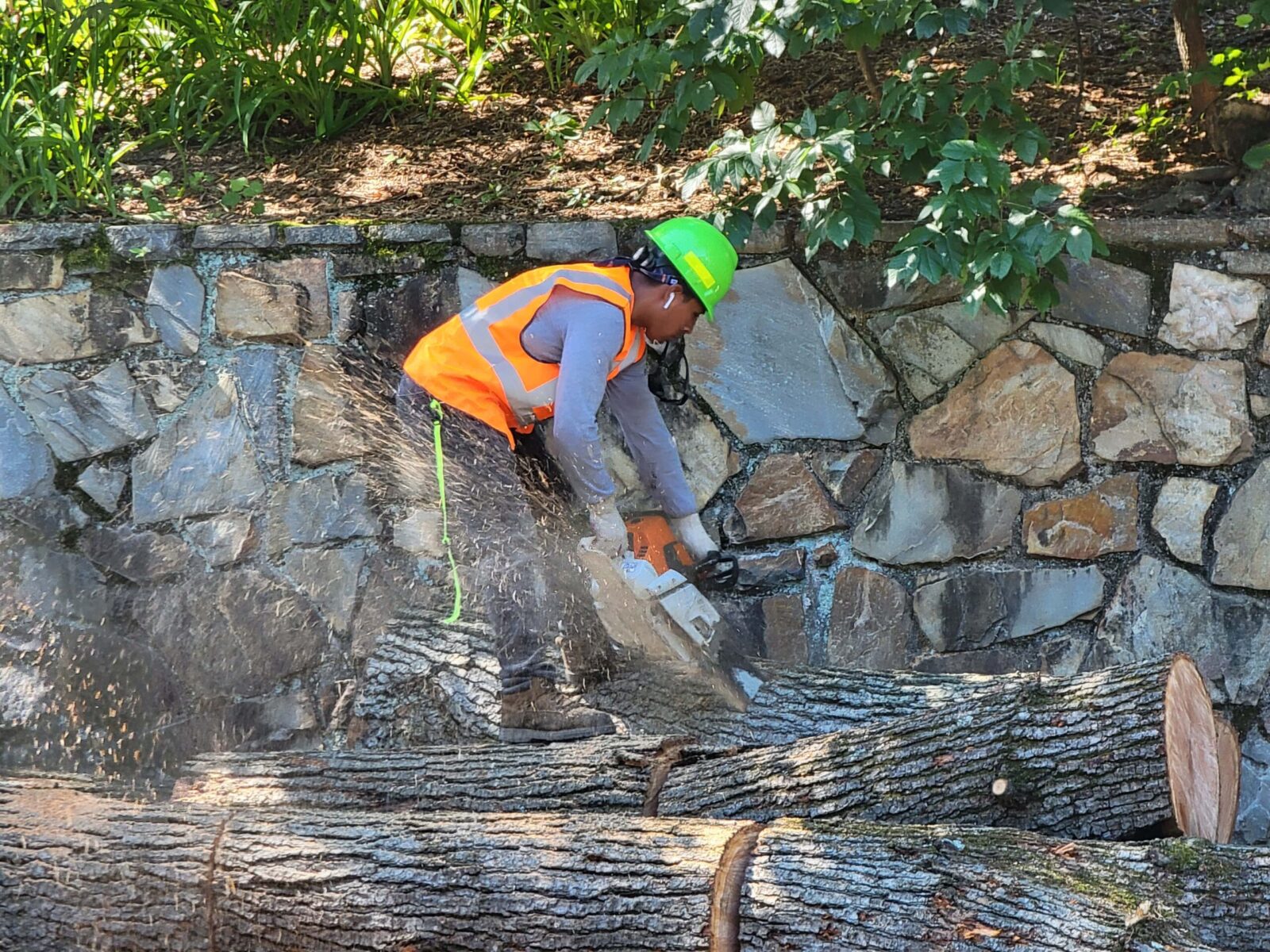 We know that every client is different- which is why we customize service provision and delivery to suit your needs and preferences. Call to discuss your property with our team today!
Why Choose Us
Why choose Solar Landscaping Tree Service? There are 3 main reasons: Honesty, Integrity and Individual Attention.
Honesty

We are always upfront about our pricing and never try to upsell you on any service. We never take payment upfront for any type of service work. We believe it's best to take payment once work is completed and all parties are satisfied. It's our guarantee to our customers

Integrity

We believe that with our experience we can help guide you through services that are necessary rather than selling you on extras that are unnecessary, and at times, costly.

Individual Attention

While we like to keep things simple and only provide the necessary work, not all jobs are created equal! This is why we treat each customer and their needs with varying levels of attention due to the types of jobs that we encounter. You can count on Solar for a custom solution from planting, trimming, disease control, to removal and everything in between.
Tree Services in Falls Church VA Include
Tree Trimming
Tree Pruning
Limb Removal
Tree Removal
Stump Grinding
Plant Health Care
Insect and Disease Control
Root Care
Tree Preservation
Certificates, Featured in & Awards
Solar Landscaping & Tree Service has served all of Northern Virginia over the past two decades.
Tree Care Services FAQs
Still not sure about tree care services in Falls Church? We want to answer some common customer questions to make it a bit easier to see why professional landscaping and tree care makes sense.
What makes trees dangerous?
Neglecting dead or diseased trees is far more than an eyesore- these trees can be potentially dangerous and mut be removed. Furthermore, sick trees can spread and infect the rest of your trees, foliage, and landscaping- a death sentence for your property's curb appeal.
When trees have dead limbs or lean significantly, you run the risk of them breaking free during wind or storms. The tree may be dead inside, which means that it is unstable and ready to topple over- a life-threatening hazard. Talk to a tree service professional to resolve the issue soon.
Also, remember that sick or decaying trees attract pests, which may not be dangerous, but that can cause an infestation and health hazard.
How much does it cost to service a tree in Falls Church?
The cost to remove a tree depends on many different things: the size, the location, and the surroundings all impact how easy- or difficult- removing the tree will be. Some industry experts estimate that it costs $300 and up to remove trees in the area.
As for service, what are you looking for? Pruning? Landscaping? Trunk removal? The pricing varies- call now for a free estimate to help you make an informed decision regarding tree services in Falls Church.
Do I need a permit to remove a tree in Falls Church?
Often property owners do not need a permit to remove a tree on their own property, as long as it is not larger than specific measurements or located in a historic district of the state. Do not run the risk of a hefty fine by neglecting to obtain a permit when applicable; your tree service professional should be able to provide assistance
So, why is Solar Landscaping & Tree Service the Best Tree Company in Falls Church, VA?
Solar Landscaping & Tree Service has earned a reputation for putting the customer first and providing quality work at affordable prices. Still not sure? Check out our online reviews and feedback- then, contact us for a free price quote and estimate- at no obligation, of course. We want to do business with you, and we will work hard to gain your trust.
Do you need tree trimming services in Falls Church? Call Solar Landscaping & Tree Service today!
If you own property in the area, you need tree trimming services for one reason or another. Plus, consider the many benefits of maintaining your property with landscaping and tree trimming provision. At Solar Landscaping & Tree Service, we want to earn the loyal business of our Falls Church, VA customers with quality work at affordable prices. In fact, we have built a reputation on this underlying mission for over 20 years. We offer a wide range of landscaping and tree services to suit your distinct and diverse needs; call for a free estimate and quote today!