Arlington Tree Service
Got a tree that needs to be removed? Don't run the risk of damage or injury by doing it yourself- call on a professional tree trimming service. The benefits of hiring an Arlington tree service are immeasurable- and the peace of mind that comes from putting your trust in a pro is unsurpassed.
If you have a tree that you want removed, Solar Landscaping & Tree Service is an Arlington tree service company that can help.
So, what exactly does a tree trimming service offer? At Solar Landscaping & Tree Service, we provide a wide range of offerings that include these:
Residential and Commercial Tree Services
Tree & Stump Removal
Tree Trimming & Pruning
Tree Topping
Tree Planting
Fertilization
Planning & Consulting
Tree Risk Assessment
We provide residential and commercial tree services across Northern Virginia- including McLean, Vienna & Falls Church.
Specialized Commercial Services
Crown Cleaning
Crown Thinning
Crown Raising
Crown Reducing
Tree Inventory
Structural Pruning
Tree Risk Assessment
We are proud to be a complete commercial tree service provider and we have worked with HOA's, Local Community Facilities, Federal Government, and many more clients widely!
Got other landscaping needs? Call to learn more about:
Weekly Lawn Care
Spring & Fall Clean Up
Mulching, Weeding & Edging
Shrub Trimming
Hedge Trimming
Leaf Removal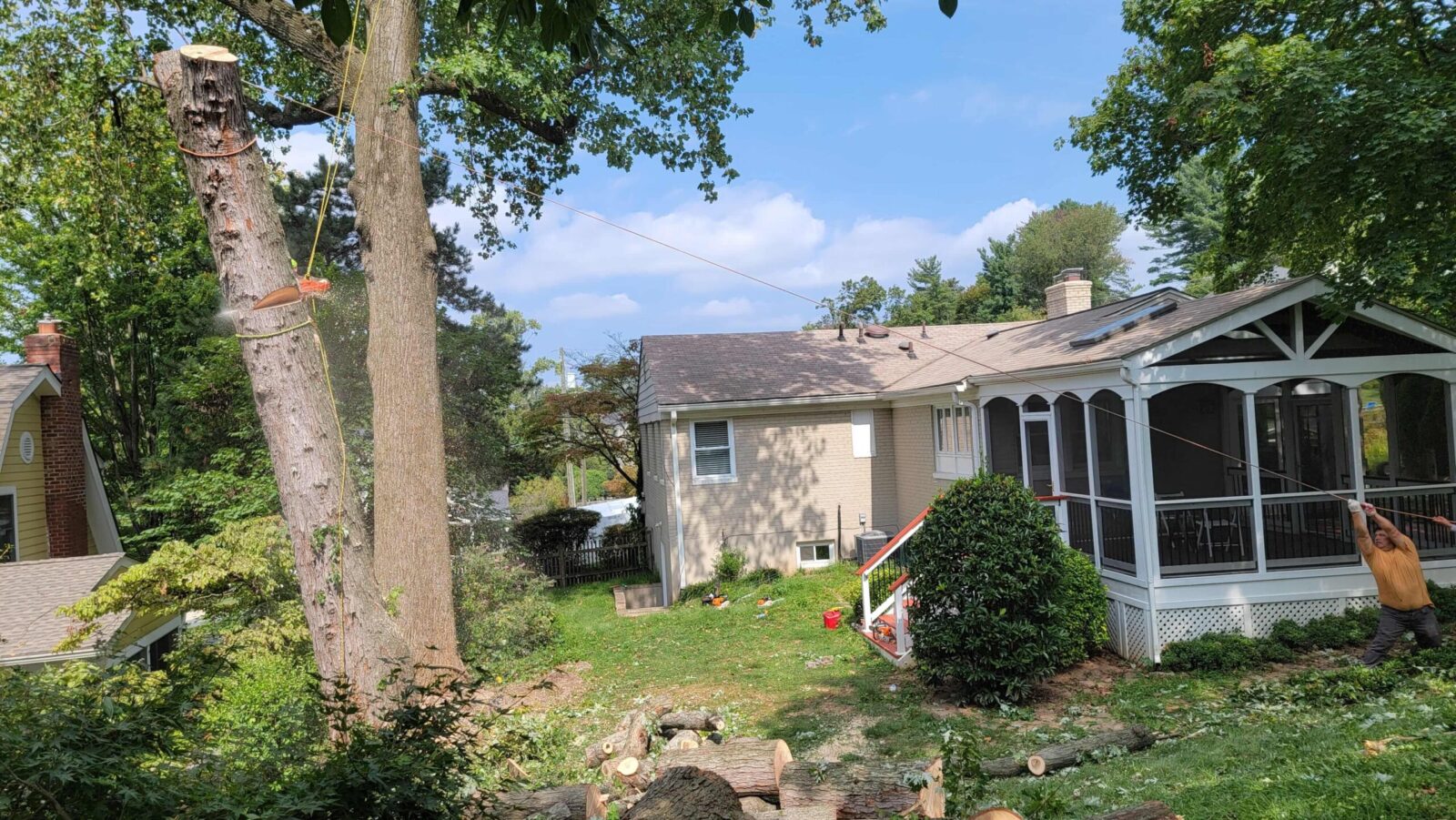 We customize service provision and delivery to suit your needs and preferences. We offer individualized attention and treat our clients with honesty, integrity, and respect.
If you have questions about a tree trimming service, we have answers!
What Are Some Signs That Trees Need Service
Consider these signs that you need tree service- and don't delay!
Dead, decaying, or deteriorating tree branches and limbs are prone to falling off the tree without warning. This poses a risk to anyone on the property. If you have dead or dying branches, call a professional tree service right away.
Damaged trees also present a hazard- especially in wind or weather. If you have a tree that has been severely damaged- over 50% of the tree- call in an expert to have it serviced or removed safely.
Does your tree look sick? Diseased trees can cause other trees and plants to become sick- completely devastating your landscaping and curb appeal. If you notice weak limbs, discoloration, and rot, call a professional to remove and remedy the situation before it has a chance to spread.
When trees lean, it could be an indicator that the tree has a weak root system and is at-risk of falling over.
If you notice holes or cavities on the trunks of your trees, the tree could be decaying from the inside-out. This compromises the structural integrity of your tree, making it an unstable hazard on the property.
Is your tree shaggy or overgrown? It could be helpful to call the experts. Sometimes an overgrown or neglected tree can have limbs that pose a danger in relation to your home or business. Call for an assessment by a professional.
Invasive pest problems could also warrant a visit from a tree trimming professional. Pests feed on dead plants, so if you notice an infestation, the tree could be in trouble.
Sometimes, trees grow where you wish they didn't! If a tree is too close to your home, business, sewer system, power lines, or other property feature, call a tree service.
If you notice these situations on your own property, call for tree service in Arlington right away.
Why Choose Us
Why choose Solar Landscaping Tree Service? There are 3 main reasons: Honesty, Integrity and Individual Attention.
Honesty

We are always upfront about our pricing and never try to upsell you on any service. We never take payment upfront for any type of service work. We believe it's best to take payment once work is completed and all parties are satisfied. It's our guarantee to our customers

Integrity

We believe that with our experience we can help guide you through services that are necessary rather than selling you on extras that are unnecessary, and at times, costly.

Individual Attention

While we like to keep things simple and only provide the necessary work, not all jobs are created equal! This is why we treat each customer and their needs with varying levels of attention due to the types of jobs that we encounter. You can count on Solar for a custom solution from planting, trimming, disease control, to removal and everything in between.
Certificates, Featured in & Awards
Solar Landscaping & Tree Service has served all of Northern Virginia over the past two decades.
Tree Removal Services FAQs
How much does it cost to remove a tree in Arlington VA?
It is tough to estimate the cost of removing a tree as there are many variables that can impact the price. Many professionals report that removing a tree can cost $300 up to a couple thousand dollars- depending on the size, location, and circumstances surrounding your tree… the best approach is to call for a free, no-obligation quote for Arlington tree removal services.
Do I need a permit to remove a tree in Arlington?
Usually, owners do not need a permit to remove a tree on private property, however there are some caveats related to the size and location of the tree. For instance, you would need a permit to remove a tree if your property is located in a historic district of Virginia. Your tree removal professional in Arlington is able to offer more information regarding permits.
Who needs Arlington tree removal services?
Both residential and commercial property owners need Arlington tree removal services- or even tree trimming services- at some point in time. If you have a tree that seems overgrown, sickly, or simply dead, you may also need services, fast.
Why is Solar Landscaping & Tree Service the best tree company in Arlington, VA?
The reason why Solar Landscaping & Tree Service is the best tree company in Arlington, VA, is simple: our mission is to provide our customers with high quality work at affordable prices. We have built and earned our reputation on this. Our priority is the customer- and we value each and every one.
Check out our online reviews and customer feedback and you will see why we are the tree removal service to call in the Arlington area. Since 1997, we have been providing tree trimming and removal services to our customers' satisfaction across Northern Virginia. You can trust us with yours, too!
Take care of your trees. Call Solar Landscaping & Tree Service today.
Take care of your property and protect your investment with regular tree service in the area. The benefits of maintaining your trees are many- and include:
Improved curb appeal
Increased safety
Hardier landscaping
Fewer pests
More customers
Staff satisfaction
Energy efficiency
And more!
Whether you have a tree that you need removed or you are looking for regular tree trimming service for your home or business, call on the tree professionals at Solar Landscaping & Tree Service serving Arlington, VA. We offer a wide range of landscaping and tree services to suit our customer's distinct and diverse needs; call for a free estimate and quote today!