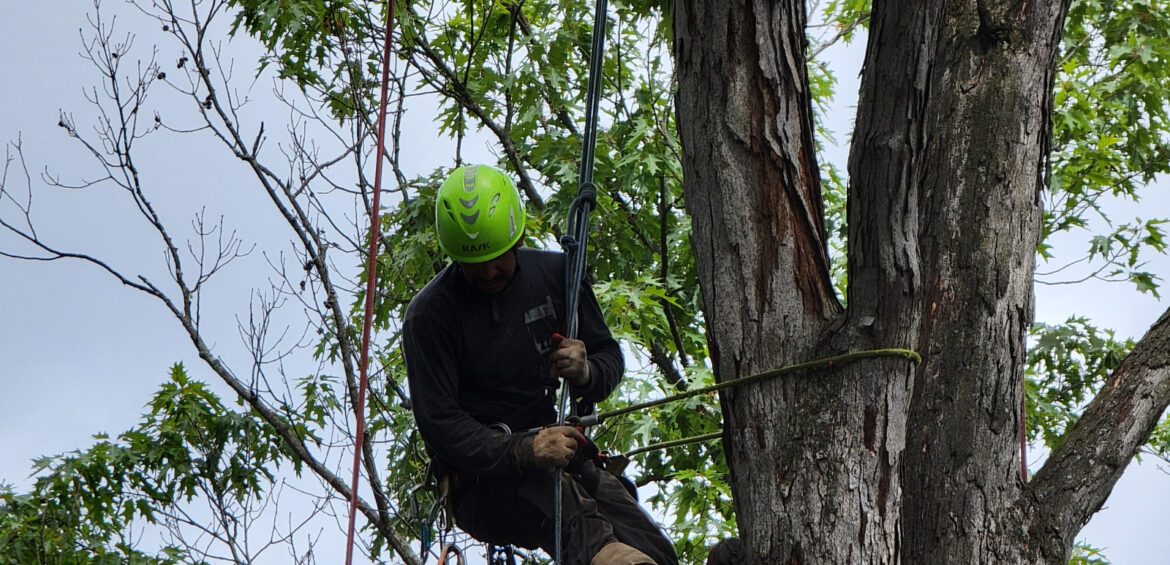 Reasons You Need an Emergency Tree Removal Service
For most Americans, the weather forecast is the most important part of the evening news. We have to know when the sun will shine and when the storms will start. After those storms pass, you might open your door to a downed tree blocking the driveway. Your next move will determine how soon you can be on your way. It is important to understand what emergency tree removal involves and who you can call to get it done right the first time.
The best way to avoid the need for an emergency tree removal service is to prevent it. This includes having your trees trimmed regularly and inspected by the professional arborists at Solar Landscaping and Tree Service. Even the healthiest trees may be affected by an emergency, so it is a good idea to have a quality tree removal service on call. Some of your trees may appear strong, but have underlying problems. Here are some of the reasons emergency tree removal might be necessary.
Sick or Diseased Trees
Your tree may appear to be in great health on the outside. Inside, however, it may be weakened and at risk of falling. Trees are susceptible to disease just like people, especially if they lack water or vital nutrients. Certain trees also fall victim to pests that cause them to lose bark and decay. Signs of a sick or diseased tree may include discolored, moist, or flaking bark, dead or weak branches, falling or wilting leaves in seasons other than autumn, or no leaf growth at all.
Don't wait to address any issues. The disease can spread between trees, and a sick tree is very susceptible to falling and could easily damage structures, cars, or even people. The experts at Solar Landscaping & Tree Service will examine your tree for proper diagnosis and treatment.
Weakened Roots
A tree is only as strong as its foundation. The root system is vital to a tree's stability and overall health. When tree roots become damaged, your tree's health is in jeopardy. Signs of weakened and damaged roots may include wilting leaves and drooping branches, twig and branch death, tree leaning, and insufficient growth. It could be just a matter of time before the tree falls if the roots are deteriorating. Even if the tree doesn't look unstable or unhealthy, our arborists at Solar Landscaping & Tree Service can provide the advice you need to save the tree or remove it.
Selling Your Property in a Hurry
If you need to sell your home fast, you may want to have your branches and trees taken care of quickly. Selling your residential or commercial property in a time crunch doesn't mean you have to sacrifice profit. Healthy trees directly affect property value. Beautiful trees can increase property prices up to 7 percent for homes and 18 percent for building lots. Customers in a retail area spend 10 percent more in stores surrounded by healthy mature tree cover. As much as trees add value to a home, they can also decrease the value if diseased or damaged. You can contact Solar Landscaping & Tree Service, your local tree removal company, to remove unattractive or nuisance trees and branches. Just because your time frame is limited doesn't mean you can't have the best emergency tree removal service available. We are available to help when you need it.
Storm Damage
When people think of emergency tree removal, trees damaged during a storm come to mind first. The consensus among weather experts states storms are getting more frequent and more powerful, so be sure you know who to call if emergency tree service is needed. Are your branches close to power lines? There needs to be a specific distance between trees and power lines. Did you know that electricity can arc up to ten feet during wet weather? Solar Landscaping & Tree Service can check the distance between your trees and existing power lines and cut back any branches too close for comfort.
During a storm, you may think lightning is a frequent cause of tree damage. For most tree damage during a storm, it is that powerful wind causing havoc. Your trees take a pounding during storm season. Don't risk your own safety with a chainsaw and a buddy to help. If you notice broken branches, downed limbs, or even a completely fallen tree, it is time to call the emergency tree removal experts at Solar Landscaping & Tree Service.
So how do you know when it is truly an emergency tree removal? When downed trees are blocking your way, causing a hazard or interfering with your daily life, call the trusted experts at Solar Landscaping & Tree Service. Tree removal costs vary depending on the size of the tree, with larger trees costing more to remove than smaller ones. After a storm, your homeowner's insurance may pay for tree removal. Consult your policy for full details.
Whatever emergency arises, don't hesitate to call Solar Landscaping & Tree Service for immediate and trusted help. We take care of the job efficiently and clean up when the job is completed. There is a reason Virginia residents use the trusted emergency tree removal services again and again. Solar Landscaping & Tree Service is one call away for emergency tree removal, preventative care, and more.
Call Solar Landscaping & Tree Service today at 703-530-8660.
You Might Also Like
Recent Posts
Tree Services