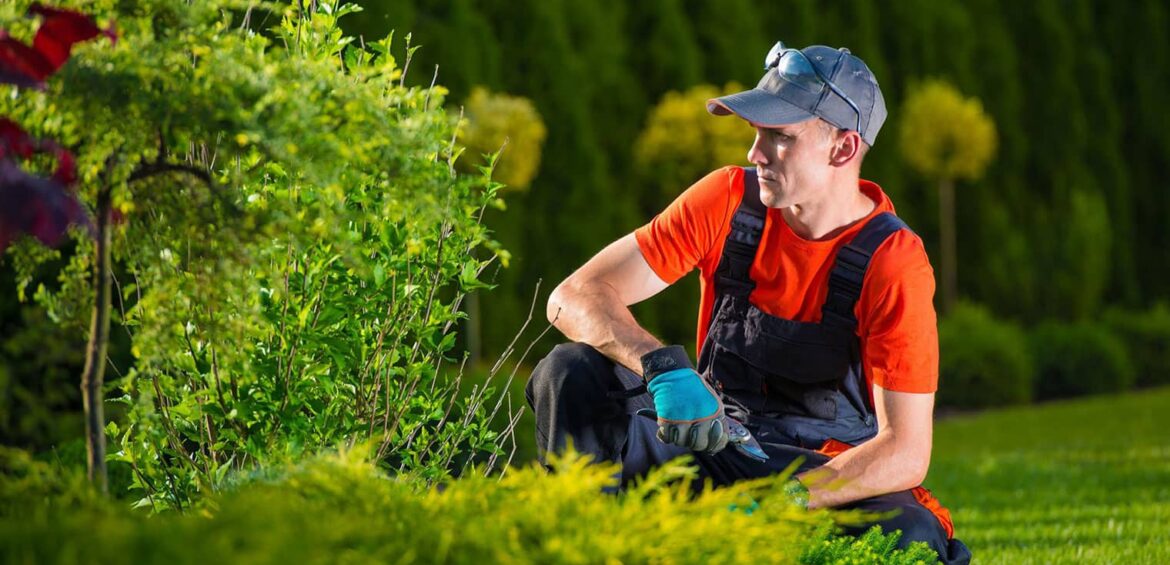 Know When to Mow
Mowing is the most time-consuming task of lawn maintenance. Mowing your lawn at the right height produces an appealing look for your home and encourages your grass to grow at its best, whether you're doing it as a chore or for pleasure on a sunny afternoon.
Every spring, many homeowners are faced with the decision of whether to hire a professional landscaping company or do it themselves. In addition, do you really have the time to do your own yard work? Consider these four reasons to hire lawn care professionals:
Save Time.

As a homeowner, you must devote several hours per week at the very least to

landscape maintenance

. The time spent doing yard work could be spent with your family or pursuing a hobby.

Save Money.

Although

lawn care services

cost money, they are actually cheaper than doing them yourself. Most homeowners overlook the value of their time. All the equipment costs are added to that, and you end up losing money each year.

Get Professionals Results.

A professional

landscaping company

provides results that exceed most homeowners' abilities. Identifying turf problems and knowing how to enhance your lawn is far beyond the capabilities of the typical homeowner. For this reason, it is important to

contact a lawn care professional

for the best results.

Safety and Liability Concerns.

There is a risk of injury when mowing your lawn. A mower can throw objects that hit cars, houses, or people. Additionally, the maintenance of equipment can expose you to dangers such as machines falling or spills of oils and chemicals.
Generally, landscaping companies are insured to cover any damage issues and assume all the risks associated with mowing and servicing equipment. Safety and liability are especially important with tree removal. Be sure to call a tree service Arlington professional to avoid any potential calamities.
How often should your lawn be mowed? Mowing frequency is dependent on several factors. Among these factors are rainfall amounts, soil type, grass type, fertilization, as well as how much time you have available to complete the task. Listed below are some general lawn care tips for determining the best mowing schedule for your lawn.
Turf Types
A lawn is made up of grasses, which are green living plants often grouped together into one entity called turf. Grass grows at different rates depending on the type of grass, climate, and amount of shade. Grass of some varieties grows better when cut higher, while others grow better when cut closer to the ground. To have a uniform lawn, you need to maintain the best height when your grass is actively growing. If you are not aware of when your grass is actively growing, you will need to mow more often. The ideal height for some types of grass grown in the United States is as follows:
Grass cutting heights for common grasses
| | |
| --- | --- |
| Fescue | 2-3 inches |
| Bluegrass | 2-2 1/2 inches |
| Ryegrass | 1-2 inches |
| Bermuda | 1-1 1/2 inches |
| Zoysia | 3/4 – 1 inch |
| St. Augustine | 2-3 inches |
| Buffalo | 1-2 inches |
Grasses That Grow In The Cool Season
During spring and fall, fescues, bluegrasses, and ryegrasses grow rapidly and need to be cut more often due to higher rainfall amounts. During spring months, mow on the high side of the optimum height for your grass type to choke out weeds. Summer is the hottest time of year, so growth slows down and mowing is less necessary.
Grasses Of The Warm Season
Southern and southwestern states with hot summers and mild winters are more likely to have warm season grasses. While Zoysia, St. Augustine, Bermuda, and Buffalo grasses grow most during the summer heat, they don't overwinter as well as cool season grasses. Rainfall is a regular occurrence for these types of grasses, so they require more frequent mowing.
Grass Growing Under Shade
Sun exposure is best for most grasses. Shade can make it difficult for grass to grow. Grass seed mixes for shade are available at most seed stores, but their germination is light-dependent, making it difficult to maintain a shaded lawn. Generally, cool season grasses do better in these conditions. You might achieve better results by mowing these areas less frequently and on the high side. Additionally, you might want to consider planting a perennial flower bed or installing a moss lawn under your tree canopy.
Having a New Lawn
As soon as a new lawn is actively growing, you should mow it as you would an established lawn. New grass can be damaged by mowing too soon; however, it's perfectly fine to start cutting it once it's reached the optimal height for its type.
One-Third Rule
In the early stages of grass growth, the stems are located near the surface of the soil, which protects them from mower blades. If you mow your grass too low at this time, the stems can be damaged and the grass will die.
The blades will flower after several months of growth. Roots begin to spread as the stem enlarges to accommodate the new leaves. The cutting height of your mower needs to be raised at this point to remove no more than a third to one-half of the newly fallen leaves.
By using this method, you will avoid cutting your grass too close to the ground, a common lawn care mistake. In addition to weed infestation, disease, heat and drought damage, and traffic injury, cutting grass below the optimum height restricts root development.
The grass should be mowed more frequently if it grows too tall, taking only a third of the new growth at one time. Before you can return the turf to the ideal growing height, it may take several passes with a few days' rest period in between.
Consider, for instance, a lawn composed of tall fescue, which should be mowed 2 to 3 inches high. Raising the mower to 2 inches in height will remove just 2 inches of top growth if the grass is 5 inches tall. Now your lawn is 3 inches tall. After a few days, lower your mower's height to 2 inches to eliminate the extra inch. You are now back to your desired 2-inch lawn height. Based on the weather and seasonal growth rate, you can set your mower for that height and cut it regularly.
Top Mowing Tips
When the grass is dry, has grown to no more than half its previous height, and the mower blades are sharp, mowing is most efficient.

A grass stem is surrounded by a sheath, a thin tube-like growth. You can determine how tall the stem has grown by looking at the sheath on a blade of grass.

By removing the youngest, most active leaves, mowing actually hurts grass.

Keep your lawn mower blades sharp

to help mitigate the damage. You may need to sharpen your blades two or three times a year, depending on the size of your turf and the type of grass.
Like you, your lawn also enjoys being pampered. Using an aerator to break up compacted soil is like relaxing your tense muscles with a massage. A professional landscaping company is ready and able to provide the following services that help ensure your lawn is happy and healthy.
The 10 Best Lawn Treatments
Remove all leaves
Pests and diseases love to live in leaves during the winter. Leaf collection is crucial to preventing turf problems in the spring. Too many layers can thwart sunlight, thereby killing your grass.
Mow your grass regularly
By mowing the lawn, you keep your turf tidy, and you make it less prone to pests and diseases. An overgrown lawn can create lawn care Issues. For most grasses, a height greater than 3 inches is problematic. Long grass cannot hold itself up at this height and beyond. As a result, it smothers the surrounding grass. As long grass droops, it also traps moisture in lower areas, which can lead to the spread of fungi and disease.
Leave the grass clippings behind.
Bagging grass clippings might make your lawn look better, but leaving grass clippings on your lawn actually enhances the health of your lawn.
Water your lawn properly.
Watering your lawn at the right time of day for the right amount of time is the key to a healthy lawn. The best time to water your lawn is before 10 am. Why? You don't want all the hard work to be evaporated by the rising sun.
Consider installing a sprinkler system.
If you currently water by hand, consider installing a sprinkler system. Sprinkler systems conserve water, save time, water uniformly, and cater to your lawn's specific moisture requirements.
Apply fertilizer to your grass.
You need to consider whether you're growing cool- or warm-season grass. Fertilize the turf during its most active growing period. In summer, you should fertilize warm-season turf, while in early fall you should fertilize cool-season turf.
Aerate
During lawn aeration, cylindrical plugs of soil from the ground are removed to alleviate soil compaction. Water, nutrients, and oxygen can reach the roots through the small holes, which are about two to three inches deep. You won't have to dig up those soil plugs by hand, so don't worry. The aerator tool will make your job easier.
Remove thatch
Just like your scalp needs a dandruff cleanse, your lawn needs a thatch cleanse. LDuring the grass' active growing season, you should remove thatch to make your lawn more resilient. Fall is the best time to dethatch a cool-season yard. For warm-season lawns, the best time to dethatch is late spring to early summer.
Overseed
Maintaining a dense, carpeted lawn is all about preventing thinning rather than trying to fix it after it has occurred. This is why planting new grass seed is so beneficial to your lawn.
Spreading new grass seed over an existing lawn is known as overseeding. Planting grass seed only once might seem convenient, but turf begins to disappear over time. New grass seed can be sown to replace the dwindling grass.
Eliminate existing weeds
You won't lose your lawn because of a few weeds here and there. However, if you leave the weeds alone for too long, they might take over your yard and crowd out your grass.
Apply a post-emergent herbicide to keep those weeds under control. Spot treatments are better than spraying the whole lawn. When you use an herbicide to target weeds or contain them in a weedy area, you protect the surrounding plants from harmful herbicides.
Recent Posts
Tree Services