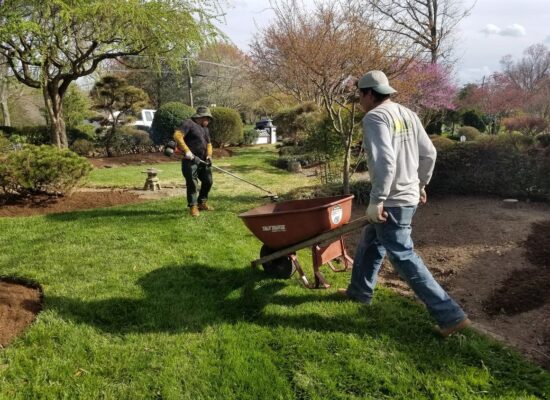 All About Trimming Shrubs and Hedges
Virginia summer weather has been beautiful, and homeowners have enjoyed tending to their gardens and outdoor flora. Here at Solar Landscaping and Tree Service, we know you take pride in your home's appearance. This includes well-coifed landscaping that results from expert shrub trimming and hedge trimming. Whether you've been tending to your landscape for years or are just starting your yard improvement project, our experts are here to share their landscaping knowledge along with some great shrub trimming and hedge trimming tips to keep your plant life healthy and gorgeous.
Shrub and Hedge Basics
Is there a difference between a bush and a shrub? The dictionary defines a bush as "a low densely branched shrub" and a shrub as "a low, usually several-stemmed woody plant." In simple terms, a bush is a type of shrub, and a shrub is a low, densely-branched plant. Shrubs are shorter than trees and perennial and most species are evergreen. Shrubs range in size from creeping at ground level to as high as 15 feet. Shrubs can grow naturally or be pruned into many shapes.
A hedge is a fence or boundary formed by closely growing shrubs. A tall hedge can sometimes be made of trees. Hedges always consist of more than one shrub and have many different uses. Hedges can be can mark a boundary, be used as a privacy screen or windbreak, or may simply be planted to enhance the ambiance of a property.
What does it mean to prune your shrubs and hedges?
Pruning your landscaping is intended to prevent loose or dead branches from disturbing other plants or people. Pruning makes room for new growth and can be performed on live healthy plants to reduce the size or provide structure to the plant. Proper pruning improves the longevity of the plant's life. Shaping trees into geometric or animal shapes is known as the art of topiary.
What does it mean to trim your shrubs and hedges?
Trimming tidies up the appearance of your shrub or hedge by removing overgrown branches. Pruning focuses on the health of a plant, while shrub trimming is more for aesthetic purposes. Overgrowth prevents the amount of light and moisture of the shrub, so trimming also benefits your landscaping beyond making it look uniform and manicured.
Shrub and Hedge Maintenance
When should my shrubs and hedges be trimmed?
The timing of shrub trimming depends on the type of plant. For flowering bushes, first, determine when it blooms. If it blooms in springtime, trim the bush after it stops flowering. If blooms arrive in summer, trim in late winter or early spring before it starts putting on new growth. Evergreen shrubs are a great low-maintenance choice for your outdoor space. They require only light thinning and shaping to keep them going strong. Plan on doing necessary trimming in late winter or very early spring. Time it before they start growing again and after the threat of frost has passed.
What is the best approach to pruning shrubs and hedges?
Many DIY landscapers end up pruning their shrubs and hedges too much or too little. Timid pruners may remove too little for fear of doing damage. It doesn't accomplish anything and fails to improve the shrub in any way. Aggressive pruners may over prune to achieve perfection of the desired shape or make sure it doesn't grow too much for the coming season. Unfortunately, over-pruning might stunt the growth of a shrub. New growth can become weak making it susceptible to insects and other pests.
What is the right amount to trim my established shrubs and hedges?
An established shrub has gone through at least two seasons to allow for proper root system growth. Go with the rule of 1/3. Make certain you prune no more than 1/3 of your shrub's branches. Remember, pruning shrubs encourages new growth, removes branches that are dead or dying, and revitalizes the plant to keep it healthy.
What is the best way to prune my shrubs and hedges?
Begin by removing any obvious dead, damaged are diseased branches. Next, remove any branches that cross with rubbing bark. The final part is to select the group of strong and well-placed branches to keep while sacrificing some secondary stems to make room for new growth. Once the pruning is complete, you can lightly trim your shrubs into the desired shape.
Professional Shrub and Hedge Trimming
Is hiring a professional better than doing it myself? There are many reasons that using the experts at Solar Landscaping & Tree Service is the best choice for your Virginia landscaping.
We have the right equipment. Specialized tools are required to properly prune and trim your landscaping. When experienced landscapers use power trimmers and saws, the result is gorgeous manicured shrubs and hedges. At Solar Landscaping & Tree Service, we also properly maintain and store our tools to keep them sharp and operational.
You leave the hard labor to us. Stay safe in the Virginia heat by letting us take care of your landscaping needs. Sit in the comfort of your home and watch us transform your overgrown shrubs into neat and stunning plants. The time you save can be spent with your family and friends, not sweating over your evergreen.
You can avoid unnecessary injury. Our expert landscapers know how to do their job safely. Don't risk injury climbing a ladder or using a curved saw to reach that last branch. Hiring Solar Landscaping & Tree Service saves you a trip to urgent care, or at least a bandage or two.
We do the cleanup. Shrub trimming leaves behind a mountain of clippings and plant debris. We won't leave it scattered about your yard. We strive to leave your landscaping beautiful and clean. Let us know if you would like us to remove the yard waste or leave it out for your next collection day.
Solar Landscaping & Tree Service is the only company you need for total yard maintenance. We offer expert shrub trimming service, tree trimming service, and offer exceptional tree trimming and removal. With our exceptional customer service, you don't need a guide to shrub trimming. You don't need hedge trimming tips. You just need to call Solar Landscaping & Tree Service now at 703-530-8660.
Recent Posts
Tree Services